In this article, we discuss 4 key reasons to move your development appraisals into the cloud and away from legacy valuation systems.
---
So you are using a legacy based development appraisal system. How long has that been installed on your desktop? Imagine if you visited a website designed in the mid-2000s – the design is obsolete and the layout is messy with information hard to find. You would probably leave immediately, right? The real estate market is gradually coming to the realisation that cloud-based computing is the future.
At Aprao, we speak with many people using various legacy development appraisal systems and we repeatedly hear the same frustrations. This is the reason why Aprao was founded – to combat inefficiencies with legacy-based tools and reliance on complex spreadsheets. Over and over again we hear developers and valuation firms referring to systems as "clunky". Does this sound familiar? In this article, we discuss 4 key reasons to move away from legacy-based valuation systems and into the cloud.
"Today, every company is a software company. You have to think and act like a digital company. It is no longer enough to just find a solution and implement a solution. It is not a simple software solution. Rather, it is about the future of every company in digitisation."

– Satya Nadella, CEO of Microsoft
1. By investing in moving away from Legacy Development Appraisal Systems, you save time
Investing in legacy based systems is not a pragmatic business decision. These tools are rarely updated and will gradually be phased out in the near future due to faster, more efficient cloud-based tools such as Aprao.
To move away from legacy-based tools there will inevitably have to be an investment of both capital and time. Legacy based systems will tend to lock you into a lengthy contract with large annual contract payments. Due to the nature of the systems, they also require expensive training sessions. Modern cloud-based systems such as Aprao, require little training and support and on-boarding sessions are completely free, whilst cloud-based solutions are often intuitive – meaning you can feel your way through the system from the get-go.
Moreover, the world of modern software is moving towards subscription models which give users the ability to scale up or scale down contract size. This also gives users the flexibility to pay on an annual or monthly basis with full support 365 days a year.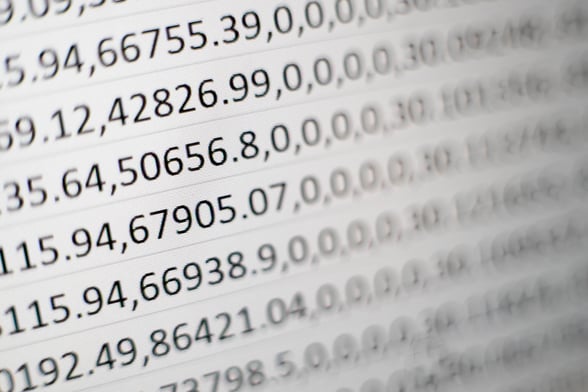 Excel spreadsheets are often complex and can produce multiple errors
2. The cost of remaining on Legacy appraisal systems is team satisfaction
You are a valuation business so of course, you have a valuation system in place. But is it costing you more than you think? I am not talking about the cost of the system. I am talking about the efficiency of your team. Great, the team probably had training sessions to understand the system, but are the senior professionals reluctant to try a new system as that requires a short term inconvenience?
We know that legacy systems have poor performance, are prone to crashing and are restrictive on user access. This all results in needless unproductivity and frustration within the team.
In a connected fast-paced business world, valuation teams and agency teams need to be able to turn around residual site valuations quickly for developer and lender clients. Having to send an email around the team to ask people to log out simply isn't good enough. As a technology business, we adopt new tools all the time as we understand that the lack of modern adoption results in lost business opportunities.
84% of Generation Z believe technology in innovation is key to the future of life and work.

- Varkey Foundation in London
Generation Z is the group of new kids on the real estate development block who value time-saving methods, which will give them the time to do more value-driven work. This is not just in real estate, but every sector; the Varkey Foundation in London interviewed 20,000 of this age group over 20 countries, and a staggering 84% believe technology in innovation is key to the future of life and work. As with every generation that comes through, the new leaders are amongst them and this generation has grown up on modern technology. We cannot expect them to learn legacy tools that are a similar age to themselves. By staying loyal to these systems, you may be indicating to employees that the company isn't taking modernisation and innovative solutions seriously. This can have a negative impact on employee motivation and work ethic, who want the best tools to increase their personal productivity. A survey conducted by Ricoh on Empowering Digital Workplaces interviewed 3600 leaders globally with 52% saying that they believed their company would fail if they did not invest in new technology by July 2023.
3. By staying with Legacy systems, you can risk security & the potential threat to your data
This is a problem that is heavily overlooked when assessing valuation systems. At Aprao we are super security conscious. We work with banks, developers and valuation firms, all of whom value confidentiality and safety of data; security is one of our core priorities. We host in the cloud and use third-party authentication systems that are as secure as they come. Conversely, Legacy based systems are built using old programming architecture. We aren't going to dive too deep into the technical aspects here but across all sectors, it is well known that legacy software systems are vulnerable - here is an interesting article about a hack in the real estate software space showing how legacy systems can be prone to security breaches. In contrast, we recently spoke to one valuer who mentioned a key reason he used Aprao was the onward value proposition he was able to afford his clients by citing that their documentation would be secure.
4.
By switching to cloud-based systems, you will stay ahead of market trends
Mobile devices are becoming such a huge part of our lives, it is crucial to follow this trend. Your computers are more powerful than the ones you were running from 10 years ago – when the hard drive used to whir with every new tab opened on the web browser. So why is your software the same? Legacy based software is installed onto desktops and isn't accessible on the go. The pandemic has allowed the real estate sector to work remotely. Using remote servers and storing your legacy-based systems on these slow them right down.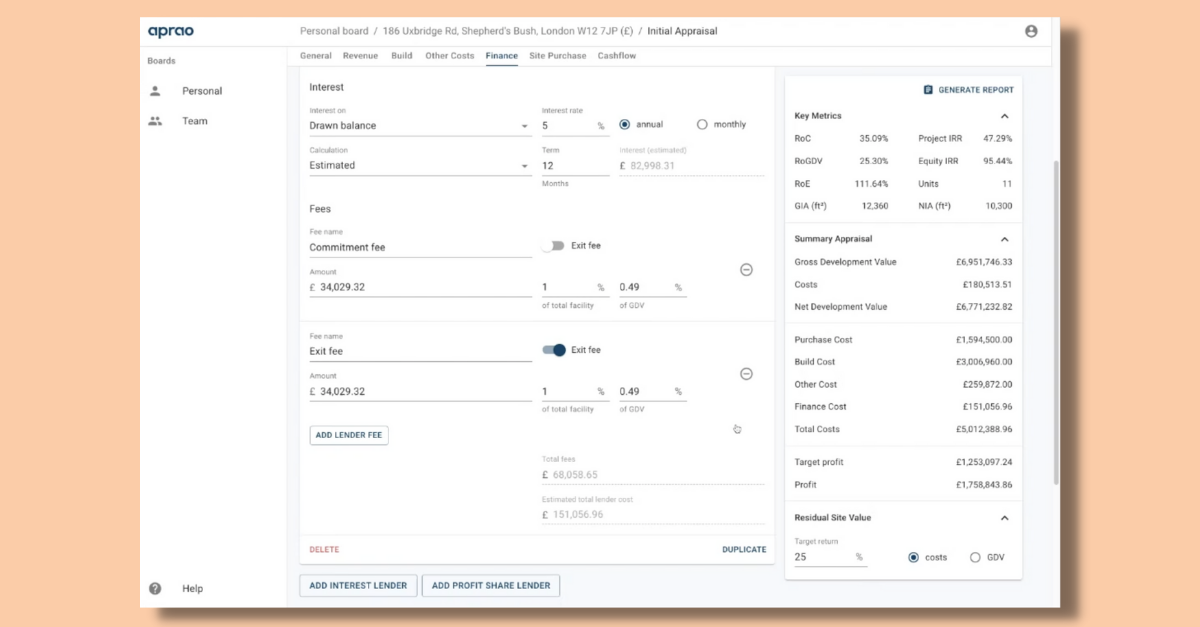 A snapshot of the finance page of Aprao
Using Aprao you can run a development appraisal and cash flow from an iPad on the way back from an inspection and best of all, it takes 10 minutes. The younger generation of surveyors wants these features.
Clients also want data fast, which is accessible from mobile and on-the-go devices, which also reflects the growing work from anywhere trend that is impacting the commercial sector so heavily in the wake of a global pandemic. Thus the onward value proposition that using a tech solution can provide for your clients is a huge opportunity. It is so important to stay ahead of the game with on the move technology to maintain your market position.
If you're interested in seeing what Aprao has to offer, you can try it for yourself for free! Just click below.