In this quick-fire interview, we chat to the founder and CEO of Bullpen, Tyler Kastelberg, about hiring trends within the US commercial real estate sector. Bullpen is the only freelance network dedicated to the commercial real estate industry. It connects commercial real estate companies with experienced real estate professionals for project-based, part-time, and full-time freelance engagements. Read on to find out how Bullpen views current market trends and the top roles that companies are hiring for right now. We also discuss importance of data in our sector, and new technology segments that will make a difference to the lives of real estate professionals.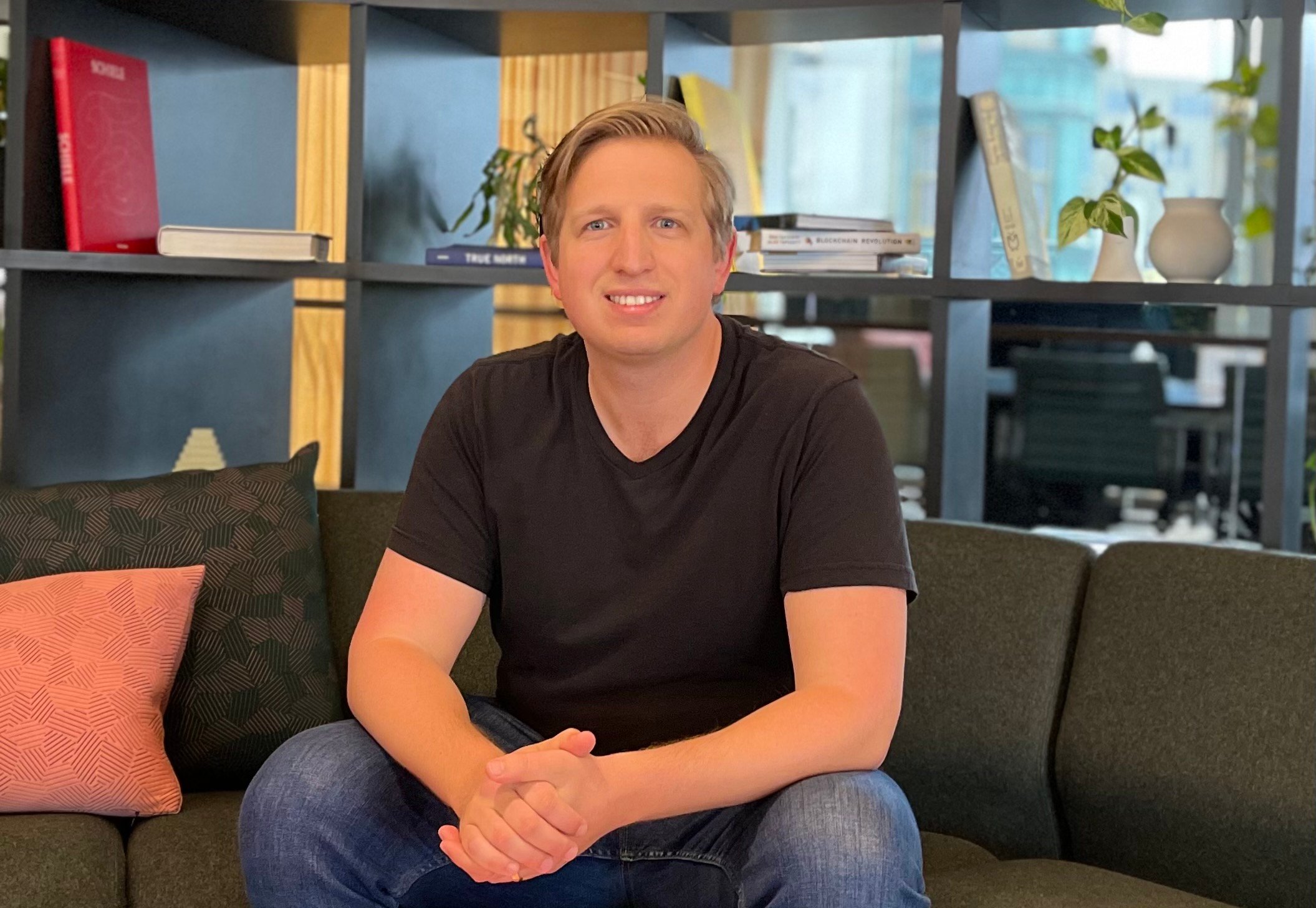 The hiring market
What inspired you to set up Bullpen? How did you discover the market potential for freelancers within real estate?
"I sort of stumbled into creating Bullpen. When I set out as an entrepreneur, my plan was to use West Coast money to purchase East Coast assets in syndications. As I competed for deals, I built relationships with other investors and noticed a widespread need for freelance analysts and asset management support.
"As I leaned into this need, the concept for Bullpen was born. I started Bullpen without really knowing the market potential. Data shows that there are approximately 2 million real estate companies and 3 million employees in the US, so I had the confidence that local freelance demand would extend nationally."
Which industries within real estate are you seeing the biggest growth in using Bullpen's services?
"Acquisitions and Development firms are our two largest customer segments. At the end of last year, we started targeting mid-size and large firms (50+ employees) and found that there is a big need for temporary team members throughout their organizations."
What are the biggest hiring trends within real estate right now that project managers and company owners should be aware of?
"Companies with a remote-first culture are winning. In a remote-first culture, promotions and compensation are not impacted by whether or not a person works in-office or from home. This used to be very rare in the commercial real estate industry but is starting to become commonplace."
What kind of roles are real estate companies now looking for going forward in 2022?
"We recently pulled data from our pipeline that analysts, property accountants, and marketers are the most in-demand freelance team members. Asset Managers were a close 4th. Moving forward, we anticipate this trend to continue."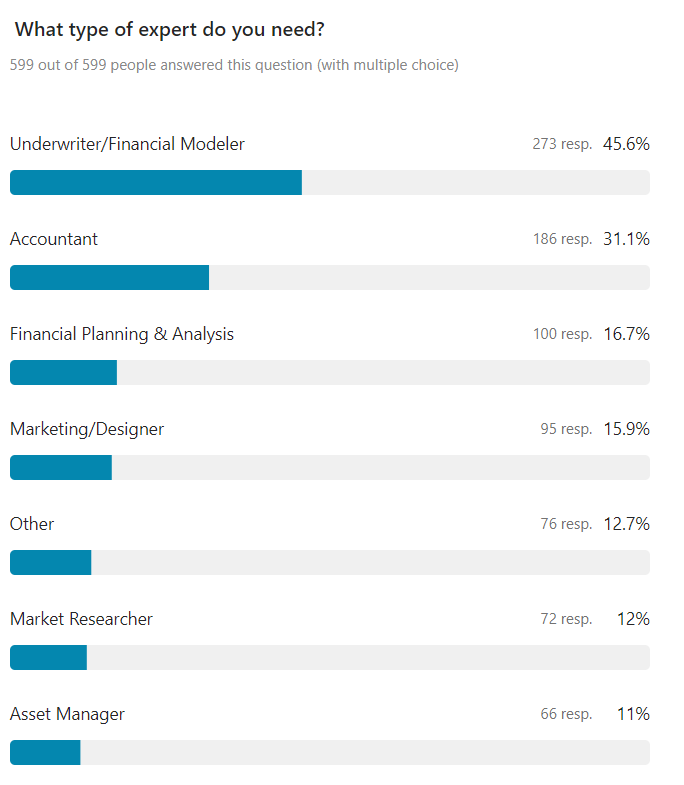 The most in-demand real estate roles according to Bullpen's database (March 2022).
How important is data to your business model? How can real estate companies be better utilising technology to drive decision-making?
"We ask freelancers in our community to share information that will help us place them with clients, including a summary of their skills and their typical hourly rate. As such, we have more than two thousand data points on freelancer pricing for different jobs. We've found this invaluable in our business."
Many freelancers on your platform work within investor relations. What trends have you noticed within the investor market? Are there any new roles emerging?
"I've heard two different narratives from our customers:
Historic inflation in the US and the war in Ukraine are creating hesitation to allocate capital. Investors are waiting to see how the fed is going to respond in light of the war and if that is going to put a strain on the real estate market. The real estate market typically doesn't respond to market conditions as fast as the stock market, so they can wait a few months to "buy the dip."
The venture capital market is now big and old enough to give institutional investors confidence that it will perform well over the long term. As such, real estate investors are facing more competition from VCs who as of late have a better track record."
PropTech segments to benefit developers
What other areas of PropTech do you think can benefit real estate professionals?
"The biggest PropTech need that we've consistently heard from clients is data management. Data is the backbone of real estate investment and asset management decisions. However, most companies lack the processes and data infrastructure required to use their data effectively. You can see this in action with small operators with old portfolios, where most assets are underrated compared to current market rents.
"While big real estate firms are typically better at keeping their units at market rent, they struggle to organize and store data in a way that can be used by their HQ teams. In particular, one customer shared that their investor relations, fund accounting, asset management, and acquisitions teams clamor over each other looking for the "most up to date" numbers. Cherre is working to solve this problem for real estate companies, but the industry is big enough for other players."
What is the largest challenge to proptech adoption right now within real estate and how is the sector evolving in relation to this?
"Lots of people like to blame the age of the industry on its lack of technology adoption. I disagree. I think the real estate industry is SO competitive that operators need to see a clear ROI on a technology offering before implementing it. If your product puts risk on an asset's NOI, it likely won't be adopted."
Predictions for the future
What is Bullpen's main prediction for the real estate hiring market going forward through 2022 ?
"I'm cautiously optimistic that real estate hiring will continue to be strong through the end of 2022. I write cautiously because interest rates and their impact on real estate businesses are a big wild card. Hiring thrives on activity. As long as there is activity in the real estate market (good or bad), I think people will still be able to find great freelance jobs."
Outside of hiring alone, what are the 3 biggest trends you see emerging in the real estate sector going forward into 2022 - 2033?
"The end of easy money – over the past 10+ years, all real estate investors have looked like heroes as falling interest rates created record returns for the industry. This created a flood of sponsors and retail investors who entered the market. However, none of these sponsors have bought and sold properties in a flat or rising interest rate environment. Will they adapt, or will the industry experience record losses? Time will tell.
"Further institutionalization of single-family homes is another. Invitation Homes proved that single-family homes can be bought and managed at scale by institutional investor groups. I expect this trend to continue over the next 10 years, which will continue to drive up home prices in markets with good school districts.
"Finally, virtual real estate will still matter less than physical real estate. The pandemic highlighted the mental health crisis that currently exists in the United States. The WHO recently shared that the pandemic created a 25% increase in the prevalence of anxiety and depression worldwide. People need proximity and community, both of which happen in physical real estate. As such, real estate investors and developers have a moral obligation to build spaces that foster community."
This interview was originally published as part of our US PropTech for Developers issue, featuring expert commentary across the real estate tech sector. You can download it for free by clicking here.