Marketing is an incredibly important function for all businesses and real estate development is no exception! It's not just PR fluff and "making things look pretty" - marketing allows people to see who you are, what you do, and why they should part with their hard-earned money to invest in what you're doing. Good marketing shows you in your best light and inspires people to engage with you.
Members of the Aprao team have worked as development consultants and lenders on residential schemes and some of us are even currently house hunting, so we see a lot of property marketing (both professionally and personally) and it seems that sometimes, marketing for new developments can feel like a secondary thought.
The Importance of Marketing
Kevin Costner was famously told the line "If you build it, they will come" in Field of Dreams. But development is more competitive than ever and standing out from the crowd is essential. It is naive to think that by building a good product it will automatically sell. How can people purchase something if they don't know it's there, or if the information they find doesn't fill them with confidence that it's a good purchase? For sales to succeed, a project has to be backed up by a well thought-out marketing plan!
While you're probably paying the agents a fee - which generally includes the cost of marketing your properties - consumers today often expect that the developer also engages in at least some marketing practices. It shows that you take pride in your work, and that you don't rely on third-party consultants.
The good news? Marketing doesn't have to be expensive or complicated. It's 2021, and there's a plethora of tools, products, resources, and services that can help you get started. In a time where Covid-19 has meant developers have had to market to an audience who can't necessarily view the scheme in person, it's important to invest in a more structured marketing strategy for real estate development.
So: what makes a solid marketing strategy? What does real estate development marketing best practice look like, and how does this affect the appraisal metrics and cashflow?
Marketing 101: Getting Started
Marketing serves multiple purposes and takes many forms. You don't need the firepower of the large developers to create a concrete marketing strategy that makes your schemes stand out from the crowd - there are smart, simple ways to get ahead of the curve. You don't even necessarily need to employ an in-house marketer or outsource to an agency.
You need to think about the type of buyer you are targeting. Is it the first time buyer, the luxury city centre flat, retirement living, or are you pitching the scheme overseas? Consider where your target audience will be found (both online and in the physical world) and start by taking advantage of any opportunities you have already available to you for minimal effort and cost.
You can start with the physical resources you might have at hand - such as fitting out a show flat. This usually warrants a larger scheme and also means you have to set one of the units aside and potentially refurnish at the end, but is a great way to give prospective buyers a "walk through" experience where they can envision themselves living in the development. And this is just as important to replicate digitally - sure, you can go the whole hog and get a beautiful video made, but you can also use the show space on video calls with prospective buyers, walking them through on a mobile phone - either live, or with a recording. Phone cameras today are of much better quality than they ever have been before, and with a little care and attention to detail (ensuring the space is very clean and tidy and that the lighting is bright and fresh-looking) you can give your prospective buyers a far better impression (and experience) than a potential competitor who hasn't taken the time to present their property in the best light possible.
Branded hoarding is a cheap and effective way to connect with potential buyers that live in close proximity to the scheme. People are curious by nature, and - at the very least - a link to your website will encourage passers by to register for further information. The chances are you already have hoarding for site security - so add some colour and branding!
"It's hard to find things that won't sell online."

Jeff Bezos, Founder of Amazon
Website
Speaking of your online presence (and being a tech company ourselves, of course we consider this the most important marketing channel you could have!) you can do as much or as little as you like with a website - it's completely up to you.
The best thing about marketing through a website is the ability to track everything. You can't sit on the footpath and count how many people look at your hoarding, but you absolutely can see how many people visited your website, and in many instances, how they got there. Did they find you on social media? With a Google search? Were they referred from another website, or perhaps they clicked on a link in an email? This sort of tracking comes as standard with most website platforms, and will help you to gauge the effectiveness of your marketing efforts.
It can be relatively cheap and easy to build a good website, and these days, the customer's expectation is that you will have one. People like to know who they are buying from, and that is especially applicable to the largest financial commitment most people will ever make. Build a great website and let these buyers know who you are and the great schemes you have created! It is essentially the CV for your business and people will pass judgement. What is the point in having expensive well-produced printed brochures of your scheme if your website looks like it was built in the dark? Make sure you focus on ease of navigation with clear messaging and simple functionality - don't overcomplicate things. (Remember: complexity breeds both confusion and expense!)
Think of your website as the most important brochure you'll ever have - because everyone in the world can see it, it doesn't need printing, and it actively encourages people to contact you with an enquiry.
Invest in a CRM
Once you've got a website up and running - and people are able to register their interest in the scheme by using a form - what happens next? Do you currently use Excel or Outlook to track inbound interest about one of your schemes? You should consider investing time and money in CRM software. (Our own Nick Fisher MRICS was previously a development consultant having no experience with CRM, but he's lost without it now!)
There are many complex, expensive options out there for a CRM. We use HubSpot - it starts free, and you can scale up to more complex (and expensive) options if you need to. Salesforce tends to be the weapon of choice for enterprise businesses, but if you want something quick and easy to set up, Pipedrive is a good one.
Using a CRM you can track your sales and marketing work through the logical buying stages that your customers make, using an interface designed to help you keep on top of things. No more lost emails, phone conversations, or sales enquiries! You can also segment your contacts any way you like, and even send bulk emails to them, letting them know about new opportunities on the market, or reminding them about that call you've got coming up next week. It's a way of managing - and even automating - many of the quotidien tasks associated with the sales process.
Content, Content and More Content!

Speaking of your website and CRM: did we mention content is important? Monthly newsletters keep your business at the front of people's minds, and offer your contacts (both existing and potential customers) free, useful content that adds value to their relationship with you. This has the dual effect of being helpful (always a good thing!) and being engaging - which often leads to an increase in trust, and then sales come as a result.
"Content is king."

Bill Gates, Founder of Microsoft
Make the content relevant to the scheme you are developing. It could be an article about the development, the local area or something completely different - people who are looking to buy might want tips on how to plan a space before they move into it, how to shop around for the best utilities, or where to pick up versatile storage solutions. You will be amazed at the engagement you will get. Content is such a powerful tool in the marketers armoury and best of all, it's basically free!
Social Media
Social media isn't just for teenagers and university students, it is also for presidents! Jokes aside, do not underestimate the power of social media. Facebook and Twitter have billions of users globally providing the opportunity to engage directly with consumers.
"Content is fire. Social media is gasoline"

Jay Baer, Keynote Speaker
Share the content you've created on your social media channels, and use popular hashtags to make them easier to find. Someone who is looking for a new home might be inclined to look at #househunting or #interiors or perhaps the name of the area they're looking to move to.
Images & Videos
This sounds kind of obvious… but it's amazing how often we have seen poor quality images and videos in marketing content for real estate development. Unless your part time job is professional photography, employ a professional to take the photographs for the marketing materials. There is a reason they say a picture paints a thousand words! Poor quality photos instantly date and devalue a property. It's fine to go amateur-ish on an initial walkthrough (if need be) but when it comes to showcasing a property on a website or social media, high quality photos are now an expectation, not an option.
"Market like the year you are in!"

Gary Vaynerchuk, Co-founder of Resy
A Forbes article suggested that 90% of customers indicate that product videos help influence buying decisions. Another cost, but evidently worth the expense. You could even keep it simple and have a time lapse video of the site. Everybody deep down is interested in watching a building come out of the ground!
Next-Level Stuff: Shiny New Tech

Being on top of the tech trend pays off. Here are just a few new trends that SME developers should explore to improve marketing:
CGI's are nothing new, but the quality is constantly improving. CGI's help bring to life a scheme prior to it completing.
Virtual Reality is the next step up from CGI's, and give a really polished and professional impression to your prospective buyers.
Alternatively, you can invest in Matterport scans - a 3D technology. They have been widely used during the pandemic and give your "visitors" the sensation that they are actually walking through the building.
Why Marketing is Important to Your Profit Metrics & Cashflow
Marketing doesn't have to cost a fortune. You don't have to be a FTSE 250 developer to come up with some slick and creative marketing ideas. These marketing costs should be accounted for in the development appraisal. It is a cost that should be factored into each scheme, setting out a clear schedule of these costs.
Development finance banks want to lend money to entrepreneurial developers who will create a great scheme, and marketing and branding is all part of this process. Including these costs in the development appraisal will mean you will receive the money as part of the debt facility, and when you look at the project - overall - there's a small investment to be made, and given it's likely to be covered by your financier it just makes sense!
There are a few big points to consider here. Good marketing leads to a strong brand. A strong brand will result in sales. Consider Berkeley Homes. Founded in 1976 by the late Tony Pidgley. Today Berkeley Group are one of the leading developers in the UK with a global reach! As well as Berkeley's reputation for delivering best in class residential schemes and a strong pipeline of sites, Berkeley's attention to detail in marketing sets them aside enabling the brand to flourish, and units to sell, fast. The power of branding could arguably drive up the price!
"Hey Aprao, this all sounds great but marketing still sounds like a big cost with little reward in terms of my profit".

You, probably.
Ok, you make a fair point... kind of.
Here are two development appraisals on the same small residential project. Let's look at how they play out when marketing is considered.
High Marketing Budget Scenario:
Marketing budget at £42,500.

Sales start on completion.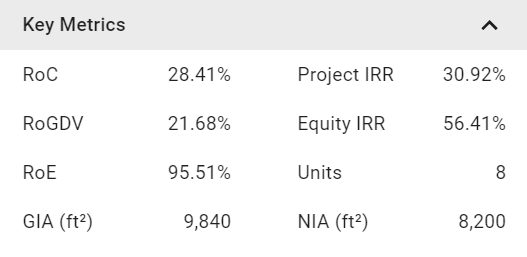 Low Marketing Budget Scenario:
Marketing budget at £10,000.

Sales start six months after completion.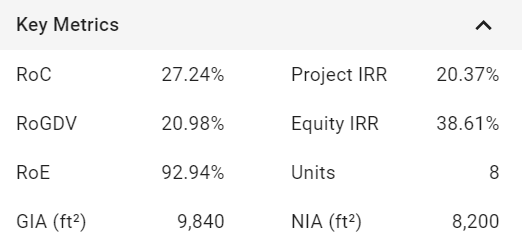 Investing in marketing can mean that the IRR improves significantly, the developer receives income a lot earlier, and allows you to recycle capital sooner.
Note the difference in returns - using the Aprao cashflow tool to calculate the interest payment, you can see there's significantly less interest paid for the development with the high marketing budget - a faster sell means a faster return, and a decrease in debt. So the investment is far outweighed by the return, in these examples.


Below you can view the appraisals we used to calculate these metrics:
High marketing budget - https://beta.aprao.app/sharing/appraisals/7262/1607148150226?check=p84Q-D8tKY-KUqSPzi-IcpyNXmo

Low marketing budget - https://beta.aprao.app/sharing/appraisals/7261/1607148678993?check=RRqPSjCEfo5SlnNm7tFTbFiXXLk
So - tell us what you think! Have you invested in marketing and seen great results? Or did you find it was a fruitless endeavour, and have returned to simply relying on the agents to market the properties for you? We want to know! Leave us a comment or send us an email, info@aprao.com.