When you initially create your appraisal, you'll probably have to do this without the benefit of a design or a detailed budget. We all know that monitoring and controlling construction financing is essential for a project to be successful, but how exactly do property developers ensure this happens? We asked some of our most experienced customers to share their insights.
Build costs are often referred to as "capital costs" as they are one-off development costs, as opposed to ongoing costs for property maintenance or management. They have a habit of creeping out of control when a development isn't planned with enough care, but given some industry knowledge and standard benchmarking practices, you can ensure you stay on top of project cost management and prevent any loss of profitability.
Doing a good job of predicting these costs will land you in good stead with lenders, who will be more inclined to do business with you on an ongoing basis when they can be confident that your cost projections are within the realm of reason.
When estimating build costs for your initial appraisal, you start with an overall estimate. Some of our customers are so good at estimating costs that they appraise sites on-the-go. You can make a lot of headway with estimates by doing your homework with BCIS - the Building Cost Information Service. This organisation gives average build costs for specific types of developments in various places across the UK.
Quantity Surveyors or potential contractors can also give you an indication of how much a property will cost to build. Your QS or cost consultant can create and manage the cost plan throughout the life of the project.
Now let's run through some of the main costs that you should consider when running a development appraisal or feasibility.
Preliminary Costs
These are also known as "prelims", and make up the general overhead costs associated with administering and running the site. They are of both the fixed and variable variety, as you can see below: a fixed cost would be a physical or built asset (like the site office, if it is purchased rather than rented) and variable costs cover ongoing expenses - like machinery hire - which will be dependent on the amount of time these are needed.
Prelims will usually include:
Site office
Site facilities and utilities (toilets, internet, electricity)
Health and safety
Hoarding / fencing
Site security
Construction Costs
These make up the bulk of your build costs, and are what most people would think of first when considering the cost of a construction project. These are incredibly variable and will depend on a multitude of factors, spanning from diggers to doorknobs.
You'll want to consider:
Demolition
Site clearance
The main build contract (if using a third party contractor)
The sub-contracts (if managing construction contracts in-house)
Fixtures and fittings
Interiors
Snagging and aftercare
Professional Fees
Professional fees cover your most important personnel costs, as well as the costs incurred in keeping your staff and your site safe with insurance coverage.
Your main professional fees will cover:
Architect
Engineer
Planning fees
QS or cost consultant
Insurances
Any other fees from other professionals working on your project
Finance Costs
Financing costs can get complicated, so do ensure you're tracking them accurately. Of course we recommend using Aprao to keep on top of these, but some people prefer an Excel spreadsheet or other alternative. Typical finance costs include:
Broker fees
Bank fees
Interest rates
Bank-appointed professionals
Abnormals
Abnormals act as a financial buffer for costs that can spring up during the build phase. For example, you may find that during construction you encounter inclement weather, and as a result the passage of vehicles to and from the site cause an unexpected muddy buildup that blocks drainage, and requires professional removal. This would be an abnormal cost, as it was unexpected, unaccounted for, and outside the control of Project Management.
It is worth allocating some of your budget to abnormals or alternatively a contingency which can easily be calculated as a percentage of your main build cost.
How accurate should I go?
The law of diminishing returns is true as ever here - however there's a significant correlation between accuracy and time spent estimating. There's no hard-and-fast rule, but there is a sweet spot. Use your best judgement when estimating costs. At the initial appraisal stage, don't agonise over the details. This is more trouble than it's worth and only decreases your chance of impressing a potential lender! Keep it simple initially, and only go into detail if you are expecting any particular costs to be exceptionally high or low due to unusual circumstances.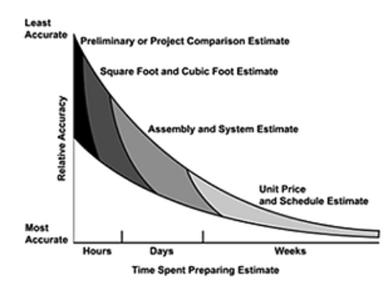 Fig. A: Relative accuracy of estimate types.
Courtesy of: From Concept to Bid...Successful Estimating Methods by John D. Bledsoe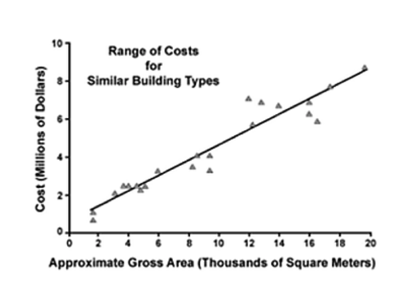 Fig. B: Project relative accuracy of estimate types.
Courtesy of: From Concept to Bid...Successful Estimating Methods by John D. Bledsoe
Using Aprao, you can track all your build costs as they develop - starting with your initial estimate, through to quotes, and finally tracking your actuals through to completion. By managing your projects in our platform, you can see the way that costs are estimated and executed over time, and when a development is complete you can apply what you've learned to the next project - or even use a previous project as a template for a new one!
To learn more about managing projects in Aprao, just sign up for a free trial from our homepage. We provide training and support, and can help you implement a few simple best-practice changes to drastically improve your way of working.