Have you ever considered using location data to get the most out of the lifecycle of your development?
In this article, we speak to US-based Local Logic, an expert in real estate location insights, on how to maximize your next site's value by using data to unlock opportunities. Through using location insights, Local Logic explains how to increase your return on investment, improve your site's ESG credibility and create smarter communities for the area your site resides in.
Local Logic is a PropTech company that delivers sophisticated location insights through APIs, web tools, one-click reports, and data analytics to help developers, investors, and property professionals to make better decisions when acquiring, buying, or building. As a result, their mission is to aid the connection of people to places by improving developers' business operations and the communities they work in. In this interview, we speak to Sara Maffey, Local Logic's Head of Corporate Strategy and Business Development about how developers can utilize location data to maximize their assets, and why real estate data will continue to grow in value over time for our industry.
Maximizing a site's value with location insights
Local Logic's platform enables real estate professionals to obtain 17 location scores from its database, which is thoroughly updated, with 85 billion data points analyzed every month. It's this sheer range of data points available in one place which sets Local Logic apart from its competitors. As Sara tells us, "our proprietary insights are our location scores; ability to use data, to quantify everything outside the four walls of the asset.
"Another thing that sets us apart is that we've been doing this for over five years. We've got historic data on how neighborhoods have developed and in terms of our long-term goals, it's using a deep knowledge of location to start making predictions about how neighborhoods will change over time and using that knowledge of location to start making insights that will help people understand the sustainability of their location choices."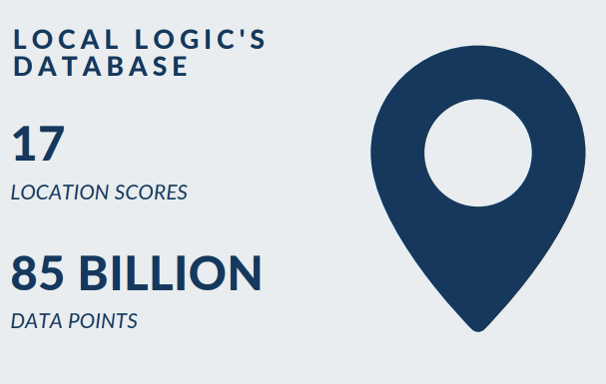 For example, if a developer is looking to invest in building a residential flat in a new location with an on-site grocery store, it would be helpful to know how much value this store would actually add to the project. With Local Logic's insights, the impact of the site both socially and environmentally becomes clearer.
As Sara points out, "if you program this right, with these (location considerations), you can actually lower the GHG emissions of the users of whatever that location becomes. And you can also start to impact the livability of cities and your site itself". In this example, there are other ways that using location insights could add profit for a developer, "if you did add a grocery store, how you could raise the rates in the residential portion of a mixed-use development, or how might that decision impact home values nearby? There's a lot of information that is helping people decide what to build.
"The other flip side of that is deciding where to build. Local Logic has a lot of data that we're capturing from the consumer-facing side around where people are looking to buy; really early indicators of how neighborhoods are trending in terms of demand and in terms of the location, and the characteristics that people are looking for within certain markets."
Data's impact on real estate investing
The increasing availability and accuracy of data insights are also changing investor behavior, and how they engage with real estate propositions. As a result of the breadth of data available, investors are relying as much on predictive data, as on traditional signposts. "Historically the industry has relied more on personal experience and boots on the ground," Sara tells us, "their gut feel about location, which they've relied on, as well sources of data like CoStar for asset-specific data. That's how we're really changing the game at Local Logic, by saying it's no longer necessary for you to make those decisions with only half the data that is available.
"We have our insights available in very flexible solutions, whether it's on the platform, or (through) the ability to actually ingest APIs directly into models. I think that that's really how the industry is changing right now and we're starting to see that value of data around location, expanding into different verticals; whether it's lending, insurance, or different sorts of hospitality and travel use cases. The necessity of understanding location in a more quantitative, objective way is becoming more and more critical."
Location data and its impact on sustainability
The real estate industry annually contributes to 40% of the world's global carbon emissions. In light of this, how can data insights help developers make day-to-day decisions around building to meaningfully aid sustainable business practices? "It's really critical to our mission to start thinking about the sustainability impacts of properties on neighborhoods of cities over time and also the livability."
"A lot of the focus right now on reporting (in the industry) is considering the carbon impacts of the materials that are being chosen and the efficiencies in running certain mechanical systems. But we're not really thinking about those larger impacts that happen once people get in there (to living in a development). There are things that developers could have impacted by just programming the site differently that would have a huge impact on the GHG emissions of a particular project well into the future.
"We anticipate that the real estate industry is going to start coalescing around ways of considering how they're reporting on ESG. Right now, it seems like companies are picking and choosing what they're reporting on; they're looking at what others are doing (to inform their reporting). However, over the next few years, it's going to have cohesion around what is being reported on. I think that's why we have such a great opportunity right now to inform that discussion and start people thinking about the emission impacts of location."
Advice for developers exploring the potential of data
It's no secret that the real estate industry is more traditional than most, and engaging with data sources may feel like a faraway or daunting prospect as an SME developer. However, Sara offers advice for real estate professionals looking to make the first step.
"If you're a developer, you might not have that ability to use data in-house, so we've developed our platform specifically with that use in mind. And maybe as you grow and become more comfortable with data, growing out that capacity internally, then you can start to use our APIs more directly. With our platform right now it's not gated, all of the data sets that we have are available within that platform everywhere in the US and Canada. So it does make it easy to search, to explore new areas or new data sets that you hadn't considered. We've done the legwork to understand what you should be considering at that acquisition stage. For example, we've got climate risk data and zoning data – so it really is a huge time saver. Instead of having to go to look at all these different data sources, you can just look in one place, get a good headstart and become more comfortable using that type of solution."
We hope you enjoyed reading this article! It was originally published as part of our US Spring Market Report focusing on real estate tech's impact on the market. You can read the full report by clicking below.